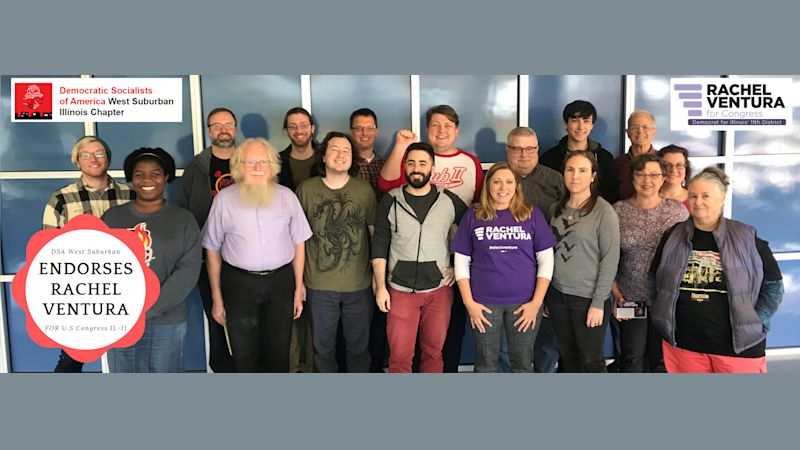 Rachel Ventura earned the endorsement of West Suburban Democratic Socialists of America (WSDSA) on Sunday, October 13th. The chapter voted unanimously to endorse Ventura and will be discussing a national level endorsement through their internal process. The only other campaign that this DSA chapter has endorsed is Bernie Sanders for President. WSDSA posted the following statement on their Facebook page after the Sunday endorsement vote:
"We've had our fill of Bill Foster. The Democratic 11th District Congressman is a roadblock to the achievement of important reforms, such as the Green New Deal and Medicare-For-All that would benefit the working people of his district. Foster chooses to align himself with moneyed interests instead.
Today, West Suburban IL Democratic Socialists of America voted to endorse Foster's opponent in the March Democratic primary, our Comrade Rachel Ventura. Rachel shares with DSA the priority of passing the Green New Deal and Medicare-For-All and, as a working person herself, knows first hand the struggles of all workers under our brutal capitalist system and will work energetically to advance their interests in Congress.
If you live in the 11th district, please help her out by signing a petition to get her on the ballot, as we feel certain that the Foster organization will do everything possible to undermine her candidacy.
Congratulations Rachel and best of luck. We need your voice in Congress."
Ventura who has been a DSA member since 2017 proudly welcomed the endorsement of the progressive organization and said, "I'm delighted about the continued support from people-powered activist organizations! I truly appreciate DSA's inclusive and respectful approach to politics. The members are well read and deep thinkers. They understand the importance of having a government and an economy that works for everyone, not just the wealthy."
Ventura has also been endorsed by two Our Revolution chapters in the 11th Congressional District and the national-level Blue America PAC. These organizations have been actively working to get Ventura on the ballot and raise contributions for her campaign.