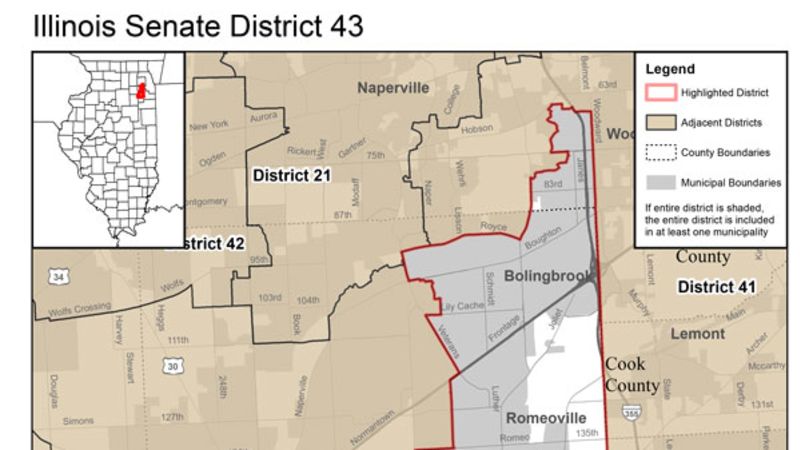 John Connor who was the Illinois State Senator for the 43rd District stepped down from his seat several days ago, creating a vacancy. By law the seat must be filled within 30 days. The Illinois General Assembly is not supposed to reconvene until veto session (after the November election).
I will not be seeking this appointment as I believe it is imperative that the voters decide without bias. I will be encouraging the committee to choose someone who has experience and someone who has been a strong Democrat but is not a candidate for this seat. I will be working hard to win this election with the support, and votes of the people who live in Illinois' 43rd District.
We have filled two vacancies on the Will County Board and it has been my position that appointments should be filled by people who are not currently running. I am going to be consistent in my position.
For those who are interested in applying to serve out John Connors term, you must be from the same party (Democratic) and you must be at least 21 years old, a resident of the 43rd District, and a U.S. Citizen.
If you are interested, please follow the process outlined below that is happening along an accelerated timeline:
The state constitution mandates that the seat must be filled by appointment when allowed by law. Pursuant to 10 ILCS 5/25-6, the appointment must be made within 30 days after the vacancy. The replacement to fill the vacancy must be voted on by the respective elected County Chairs who also represent the 43rd Legislative District:
Burke Schuster Chair Will County Democratic Central Committee
Ken Mejia-Beal Chair Democratic Party of DuPage County
If you are interested in applying for the position of State Senator for the 43rd Legislative District, please send a cover letter with your current voting address and resume to this email address: il43senatevacancy@gmail.com.
Please submit these materials by 12 noon on Wednesday, May 4th, in order to be considered for the appointment process.
The appointment interviews will be conducted by an Advisory Committee and the elected County Chairs on Thursday, May 5th.
The appointment vote and appointment will be made on Friday, May 6th, at 9am at IBEW 176 Hall, 1000 NE Frontage Rd, Joliet, Illinois, 60435 and will be available via Zoom at the following link: 43rd Appointment Meeting
If you have any questions that you would like the Advisory Committee and County Chairs to ask of the candidates, please email your name, address, and question to il43senatevacancy@gmail.com by 3pm on Thursday, May 5th.