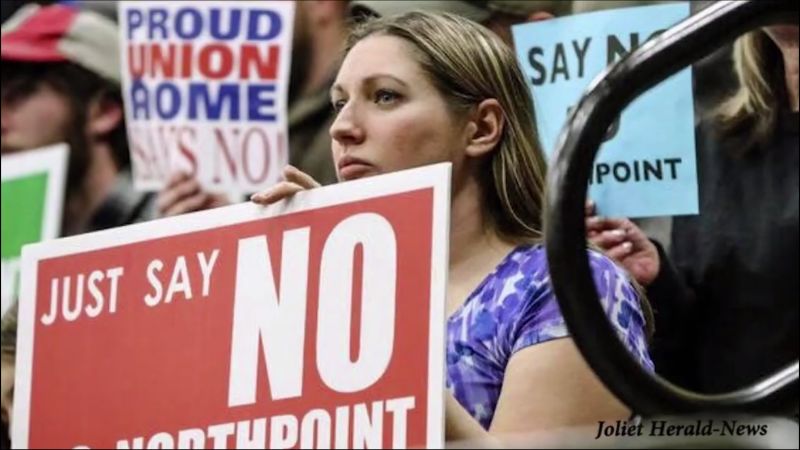 CONGRESSIONAL CANDIDATES RACHEL VENUTRA (IL-11) AND ROBERT EMMONS JR. (IL-1) VOICE STRONG OPPOSITION AGAINST NORTHPOINT DEVELOPMENT (COMPASS BUSINESS PARK)
The nearly 3,000-acre proposed warehousing park would negatively impact the environment, exacerbate infrastructure issues and come at a high risk to taxpayers in Will County.
JOLIET, IL — U.S. Congress Candidates Rachel Ventura (D) for District 11 and Robert Emmons, Jr. (D) for District 1 announce their opposition to NorthPoint Development's Compass Business Park, which was previously rejected by the Village of Elwood. Will County includes parts of Illinois 1st and 11th congressional districts, and residents from both districts will see increased truck traffic and higher taxes as a result of the proposed project.
In addition to issuing the below statements of opposition, both candidates have launched a petition calling on residents to express their opposition through a more democratic process. The petition can be found by clicking on this link: https://actionnetwork.org/petitions/tell-joliet-city-council-and-mayor-to-vote-no-to-northpoint-2
Statement from Robert Emmons Jr:
"Congressman Rush's support of the NorthPoint Development's Compass Business Park is yet another example of how out of touch the Representative is with the needs of his constituents. If the Congressman continues to ignore the voices of the entire district, then the entire district must work to remove him from office. Overwhelmingly, they have said no to NorthPoint's development. They have said no because of their care for workers, the environment, and the protection of economic equity. The Illinois' First Congressional District deserves a leader who will actively listen to the community before making decisions that will negatively impact thousands of people, and cost the taxpayers millions. I say no to NorthPoint and I stand with the people of Illinois' 1st District"
Statement from Rachel Ventura:
"Since before I was even an elected official I have spoken out against NorthPoint and continue to support the residents. My opponent, Mr. Foster, once again has avoided taking a public position on the controversial NorthPoint project. He remains silent about the environmental destruction that NorthPoint would bring to our community. His continued silence further underscores why I will be a much stronger fighter for when it comes to protecting our environment, and I will have the courage to tackle the looming climate crisis."
The project's close proximity and potential to cause harm to two federal landmarks, Midewin National Cemetery and Abraham Lincoln National Cemetery, are also cause for concern.
Compass Business Park would also further compromise the sanctity of nearby Abraham Lincoln National Cemetery, which has already experienced interruptions in funeral processions and the desecration of graves due to errant trucks entering the property and making careless turnarounds despite highly visible no truck signage.
Midewin National Tallgrass Prairie, which would be less than one mile from the park, is home to the endeared and beloved bison, endangered loggerhead shrike, and countless other wildlife species. This project could also disrupt the migration pattern of the Monarch butterflies which pass through the area.
The environmental impact would not only affect Midewin. The number of green acres paved over for warehouses would hinder the nearby acquifer's ability to replenish itself, and the diesel pollution resulting from truck drayage would cause a slew of negative health effects. Noise and light pollution, despite efforts to minimize impacts, would still pose a significant risk to the environment.
While it is true that Compass Business Park would initially generate some short-term construction jobs, there are a number of documented incidents in which NorthPoint made bad deals with trade unions by not using local contractors, not paying area-standard wages, and not abiding by minority worker agreements. After construction, NorthPoint cannot and will not guarantee liveable wages, job permanency, or safe, healthy working conditions of the warehousing jobs that would follow. Joliet has a disproportionate number of warehouses and would benefit from economic diversity.
With CenterPoint having roughly the same amount of acreage left to be developed, it would make more sense for the City of Joliet to champion the intermodal that is already here, right on the rail, and right next to the interstate instead of vying for a project that would have obvious negative impacts. Compass Business Park's footprint is several miles from the interstate and would not be located on any rail lines. That might be hard to see from a helicopter, however.
Furthermore, NorthPoint's deceptive "closed loop system" and proposed bridge over Route 53 at Walter Strawn Drive could not contain traffic generated by Compass Business Park or alleviate current traffic congestion due to the necessity of emergency access points, employee access point, and the re-opening of Walter Strawn Drive, which was previously closed in 2017. This bridge serves a single purpose of enhancing NorthPoint's own profitability while neglecting to consider the negative impact of the additional traffic generated from the project, the creation of a new access point to the intermodal, and usage of roads that are already overcrowded and in disrepair.
The Rebuild Illinois funds are not enough to fix the significant issues that already plague the area, let alone prepare for a project of this magnitude. CMAP just kicked off Moving Will County, a land use and truck routing study for this specific geographical area, with completion at least 18-24 months away. To approve a project in this location before the completion of this study would be an irresponsible waste of taxpayer's dollars and a reckless gamble on the future.
NorthPoint Development has demonstrated a lack of respect for the communities in Will County as they have ruthlessly pit the Village of Elwood, Village of Manhattan and the City of Joliet against each other. Their continued efforts to push this project through despite well-reasoned, fact-based opposition from local units of government and its residents is evidence that NorthPoint is not a developer that wants to partner with the community.
The evidence is overwhelming: this project would not benefit the community and instead would be a detriment. Together, Emmons and Ventura are joining the people in their districts by urging Joliet City Council to say NO to NorthPoint Development's Compass Business Park.