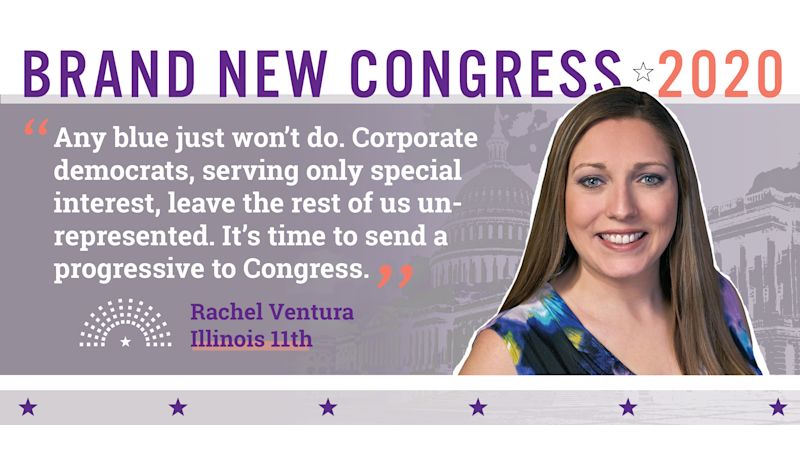 Another national endorsement!
On the heels of this weekend's national Our Revolution endorsement, Rachel received another national endorsement from Brand New Congress, becoming the 33rd candidate to join the 2020 slate. This campaign is quickly gaining momentum!
Brand New Congress was one of the first organizations to recruit and endorse Alexandria Ocasio-Cortez in her 2018 upset race against Joe Crowley. According to the national organization Rachel Ventura received more nominations than any other candidate in the 2020 cycle.
Cory Archibald, Chair of Brand New Congress' board, released this statement:
"Our mission is to change the face of Congress to give working people real representation in Washington. Brand New Congress candidates are nominated by members of their community, and we received more nominations for Rachel than any other candidate this cycle. With her compassion and grit, we are thrilled to welcome her to the slate and confident she will be the next Congresswoman for the 11th district."
"It is a great honor to receive the endorsement of an organization that is committed to replacing entrenched lawmakers who have become part of the problem in Washington D.C.," said Ventura. "I look forward to being a new voice on capital hill who brings bold solutions and the courage to implement them."
The endorsement can be found on BNC's website here - https://brandnewcongress.org/Candidates
ABOUT BRAND NEW CONGRESS Brand New Congress is a Political Action Committee that seeks to replace the current congress with representatives who understand the struggles of regular working people. They recruit teachers, nurses, activists, and blue collar workers who understand what's at stake for the average American family. All BNC-endorsed candidates sign a pledge to support the BNC 21st Century Bill of Rights and to refuse corporate PAC dollars.